Even if you are too familiar with golf, you may have difficulty choosing the right clothes. The standards for proper golf attire for women have changed dozens of times over the past few years.
Therefore, many myths lead to invalid situations, especially in private clubs and in professional plays.
Although these rules may be slightly changed in each country to suit the culture, this article will provide the most detailed guidance. Check it out!
Proper Golf Attire For Women
Ladies Golf Fashion, Traditions, And Vintage Style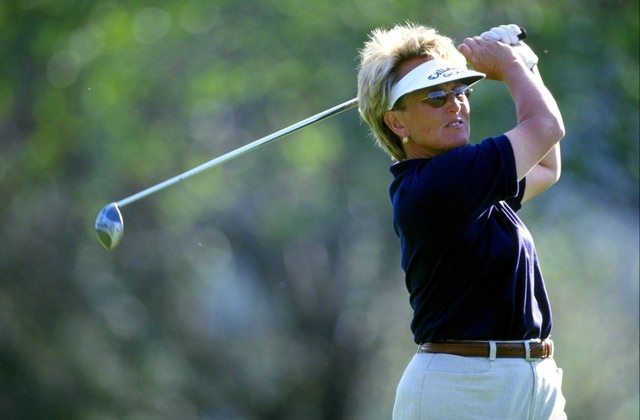 As you know, golf fashion has changed a lot since its inception. Let's discover the typical styles for the past 70 years in this section.
In 1946, the first winner of the United States Women's Open Golf Championship played all season in an uncomfortable outfit: a loose sweater and a long wool skirt.
From the earliest days, vintage styles, including elegant long dresses or skirts, gained in popularity. The ladies may go through a lot because they had to fight for both femininity and comfort in these costumes.
Back in the 1950s, women players began to place a greater emphasis on comfort. Khaki shorts and classic tops became a phenomenon.
The 70-80s period saw the introduction of the platform sneakers. However, there are no women's golf clothing manufactures for the time being. Most of the original designs were for men, then dyed and chopped up to sell for women.
It was not until the late 90s that visors gradually appeared more often on courses. Up to this point, most items still retain neutral colors, like white, cream, or black.
The style commonly found on golf courses in the 1990s
The vibrant colors started to gain popularity in the golf costume designs at the beginning of the new century. "Tech" fabric also comes into fashion in recent years.
As fashion trends keep changing even with sportswear, I totally believe in a new and more exciting explosion in the coming season.
What Are The Rules For Proper Women's Golf Attire?
Is there a difference in the dress code between clubs? Please take a look at this part to find out the answer.
Firstly, there are no standard rules for all golf courses. Private or exclusive clubs require all players to adhere to the dress code they set.
If you do not want to pay much for accessories, you should play in public golf courses or practice facilities. They often do not take this issue seriously.
In the event that a dress code exists, these items usually on the black-list include denim, jeans, and cargo shorts. Yoga costumes, tank tops, tight-fitting tops, and flip-flops are also unsuitable items.
I have also heard of some clubs that ban excessively short dresses or skirts. However, more specific regulations will be mentioned in the next section.
At last, if you are in a real quandary over what to wear, you should call the club where you plan to play.
Investigating this information in advance will help you prepare better and show respect for your favorite club.
The Key Items Of Women's Golf Wear
Here are some essential items if you do not want to go against the dress code and still look fashionable. Let's drag into this section now.
Tops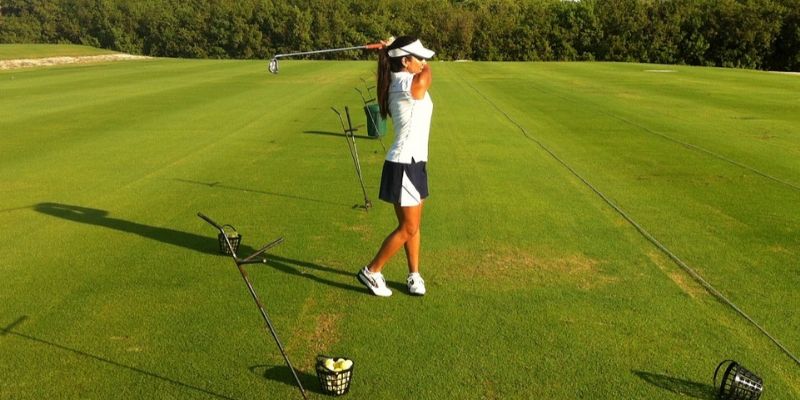 When it comes to tops, ladies have many options; but the shirt must have a collar (including sleeveless shirts). Typically, most female golfers prefer a polo-style shirt.
Sleeveless tops are appropriate as long as they have collars.
Not just plain colors, now you can find many attractive designs with striped or floral patterns in stores.
Besides, turtleneck items, including ¼ zip-top or half zip-top, are acceptable.
Bottoms
The female players change their bottoms options based on the weather situation.
For spring or fall days, ankle-length slacks are proper laid business golf attire for women. Crops, shorts, or capris become more popular on a hot summer day.
Golf dresses or skirts are also the favorite choices of the ladies. It would help if you were careful about their length. Most clubs will note the details of this on their website.
All other types, including leggings, sweatpants, and athletic pants, are considered informal.
Sweaters and Jackets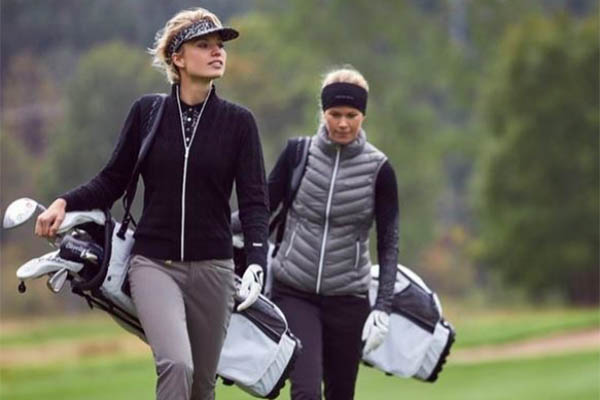 Layer dressing is good preparation for these games that can last at least 5 hours. On low-temperature days, a vest or sweater can keep you comfortable without restricting your performance.
Layer dressing is very common for golf games.
It is also unnecessary to worry about the sunlight or sudden rain. I strongly recommend a wind shirt, light jacket, or a collared button-down shirt for such situations.
However, most clubs do not accept jean jackets and sweatshirts.
Headcovers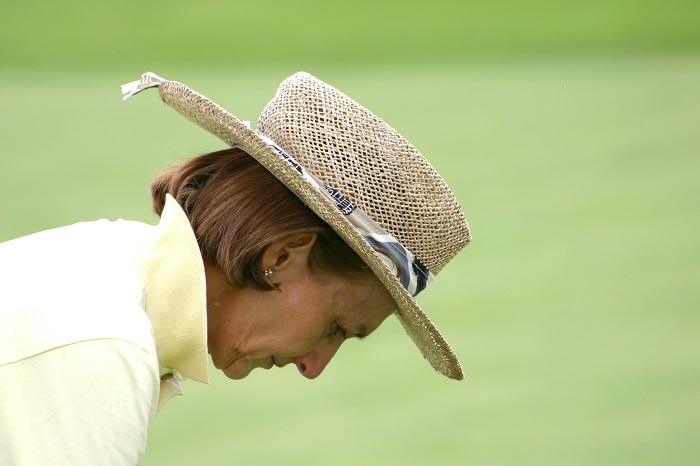 Because matches often take place outdoors, I always carry a hat or visor in my golf bag. It helps to protect my skin from extreme tanning and sunburn.
However, buying a hat is never an easy task because there are so many color, material, and style options available.
Cowboy hats, beanies, or fedoras are not good choices for golf matches. Straw hats, designer caps, and caps with lots of glitz are quite more popular.
Recently, crochet sun hats have also attracted quite a lot of attention. If you still haven't found one, you can try this. It is one of my favorite headcovers of all time.
Footwear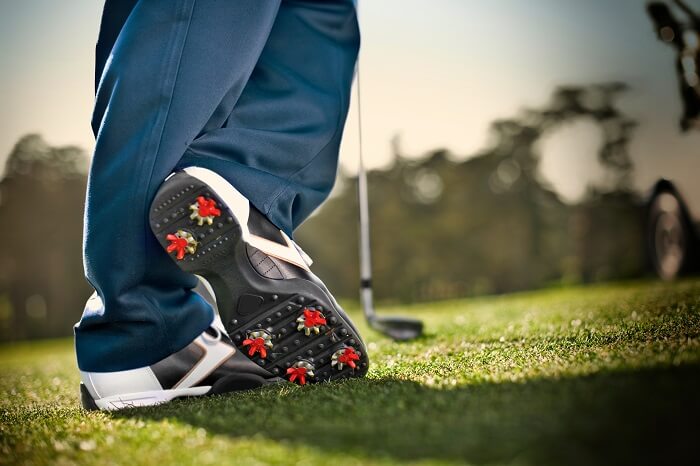 You should not go to golf courses with a pair of sneakers or tennis shoes. High heels, sandals, or flip-flops are also not a proper item.
It would be best if you invested in golf shoes with soft or non-metal spikes. They give you stability without damaging the greens. Some high-quality brands that you might consider are Puma, Nike, or Skechers.
Also, nice shoes should come along with a comfortable pair of socks. Long socks with a golf dress or skirt are a pretty cool combination.
You can also pair long pants with short socks of the same color. It's a fascinating fashion tip I've read in magazines.
Eyewear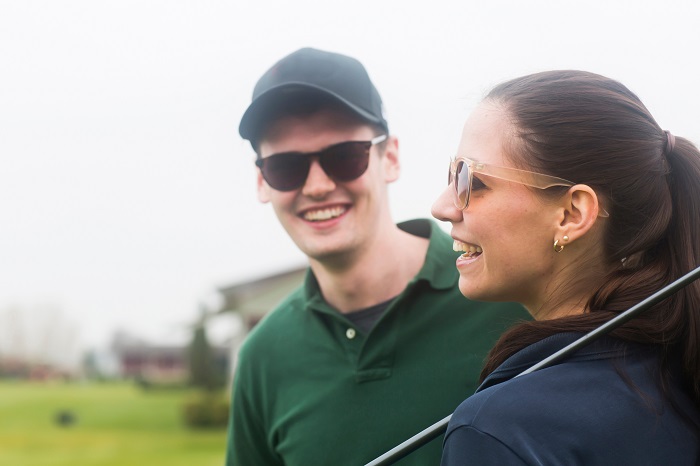 This is what people often overlook most, but I think it is essential. If exercising outside can have a negative impact on your skin, your eyes will suffer the same way.
Let's protect your eyes polarized carefully with sunglasses. However, you must pay attention to your choice so that it does not obstruct your vision.
One piece of advice for you is that when you try on glasses, look down and act like you are about to swing. You may find that some glasses alter your eyesight.
Accessories
Actually, there are not as many strict regulations on accessories as you think. You absolutely can wear whatever you want to make the outfit stand out as long as it does not make the game challenging.
A trendy belt can be a good choice. Small jewelry brings the same effect, but the small ones are highly recommended.
Wearing a glove is also a good idea to avoid blisters on the hands. If you want to come up with a watch, it is best to be waterproof.
The Deep Divide Between Men and Women's Golf Apparel Rules
This section will discuss a controversial issue in the golf world: Different perspectives on men's and women's golf wear.
With the increase in female participants, women's golf apparel rules have become less strict. These efforts aim to modernize the sport and attract more young players.
The sportswear manufacturers vastly revamp the women's wear with a focus on being trendy and comfortable.
Professional tournaments also slowly allow players to move beyond tedious restrictions. For example, those who compete in the framework of the European Tour are allowed to wear shorts during practice.
However, in July 2017, LPGA's announcement rejected most of the incentives for golf fashion innovation.
Some argue that this is an outdated decision that creates deep gender discrimination. Why can male golfers wear joggers and top sneakers, but women suffer this injustice?
On the contrary, the defending side showed their praise for the professionalism of the tournament. They said that this new rule could create uniform and focus for the performance.
Until now, debates about the trendiness and the suitability of women's golf cloth have yet to end.
In my opinion, female golfers have the right to pursue a healthy and trendy image just like women's tennis does.
See more : Women's Golf Outfits ideas
Final Thoughts
You should not take the rules for proper golf attire for women seriously.
Here are the three main points you must do: tops with collar, reasonable length pants, and sun protection items. Otherwise, you are free to create your own style according to your preferences.
Thank you for taking your time to read this full article. I hope you have found this information useful and can apply it to practice.