A typical golf ball can last up to seven 18-hole rounds without losing its efficiency. But let's face this if you go through the intense routine, it would also be harder to clean the ball.
This article will provide you with an easy-to-digest guide on how to clean golf balls. You will be surprised by how you can use everyday items to wash effectively and how easy it is. Let's continue reading to explore more!
How To Clean Golf Balls
Many golf players often neglect the ball cleaning task and focus only on their clubs and tees, leading to an unexpectedly bad result.
If you want to get that slim chance of earning an ace, you'll need all your equipment, especially your balls, to be of the best quality. Mud and dust can affect inertia and momentum and make the land hard to track.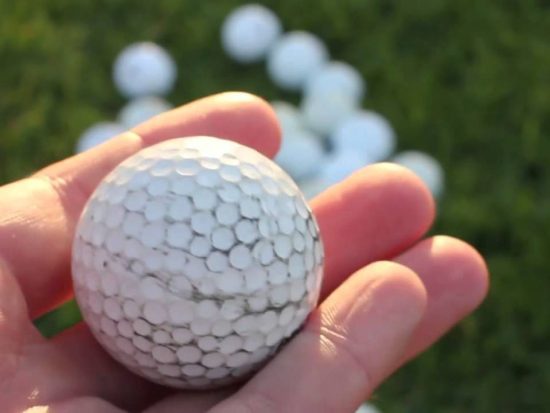 At Home
1.Using Washing Solutions
Many people look at this article and think they can pour many soaps and bleaches into a bucket for maximum cleanliness. However, we strongly advise against this for the sake of you and your home's safety, as chemical reactions will occur and produce unpleasant results.
Do not experiment with mixing products in your house, but rather, choose one of these solutions at a time to clean :
Dish soap: It's a very common and effective way. Dish soap is not too strong, but it can eliminate pesky grimes on your ball.
House-safe ammonia: Ammonia is great against toilet and sink stains; adding this simple base into the mix will serve you well. Ammonia might smell unpleasant for some, so it is not exactly the best solution for washing.
White vinegar: Environmentally safe and easy to attain, this mild acid can ease your chore. Some will be worried about how the substance smells, but if you rinse the balls carefully afterward, there won't be any lingering stench.
And last but not least:
Bleach: You have seen this coming for sure! Not only will bleach get rid of mud and disinfect your equipment, but it will also return any discoloration to the former glory. If you detect any stains, bleach can also help rid them!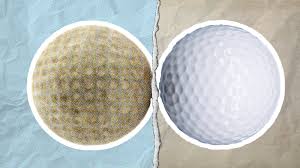 A soak in one of these chemicals for 5 minutes or more could make dirt on the ball easier to scrub off. After scrubbing, as we said, if you don't want to leave any smells, do rinse with water one more time and let dry naturally.
2.Using Brushes
This step can be in tandem with the former method. Adding a brush into the equation makes the job way easier than scrubbing by hand or with scrubbing gloves.
However, this is not as simple as it seems. As we've said, the simple design of the ball is the bread and butter of a brand, so you will not want to lose all those R&D results by being too aggressive with the cleaning process. You ought to keep the balance between strength and gentleness for this task.
A soft-bristle toothbrush is the most suitable tool for this job. Get yourself one, and you'll get yourself a clean and fresh pack of balls in no time at all!
But what if you're looking for even more time-effective ways to preserve your golf gears? The next part of this article is about using some household gadgets that are within your reach!
In Bulk
1.Using A Dishwasher
Instead of brushing, you can have a go on a common dishwasher to get rid of the grimes and dirt.
Load the utensil rack of your typical dishwasher with golf balls, and you'll never have to get your hands washing them again. Results will vary (of course) since you're not the one directly doing the work and quality-check along the way. If the balls are still dirty after one wash, patiently scrub them for a second time should do the trick!
After the balls pop out of the machine, you may use a soft towel to wipe them dry off. In this way, you can also check for any leftovers and stains in dimples. If necessary, you can take the crud off with the towel as well since they've eased up enough in the washer.
However, we can spot some people trying to save time by washing their golf balls and their utensils at the same time. We can assure you that this will only make the job way harder for your machine to handle, and make quite a mess on your cutleries and well.
This type of washing is gentle enough for the balls to retain their shape and design without harming the dishwasher. Give this a try when you're running behind on your schedules to give yourself peace of mind!
2.Using The Bucket Method:
You'll need to utilize your garden hose for this one, too.
Start with filling a bucket of your choice with the golf balls, and set your gardening hose on low-medium settings. Soak it in water to ease the dirt before the next step.
After that, wash the balls directly under the opened hose. The force should be able to strongly attack the mire and form a sludge in your bucket. Whenever dirty water fills up half the bucket, drain it out to refresh and prevent the dirt from caving on the products again.
If the water is merely rinsing rather than dislodging, that means your hose is still on a lower setting than it should be. But don't crank it up too high; you might risk the balls escaping from the bucket due to the water pressure!
Those are methods you can try and implement at home. However, have you ever wondered how professional golfers get the chore done?
How To Clean Golf Balls For Pro-Players
When there are specific machines for everything, a golf-ball cleaning machine is a common tool that most people choose to deal with their dirty golf ball. Most of the time, only professional golfers use these machines not just because of how expensive they are but also that they're cost-effective and hash-free to use.
Golf courses use these machines: Course managers usually place them near the tee boxes or right on the carts that take you around the field!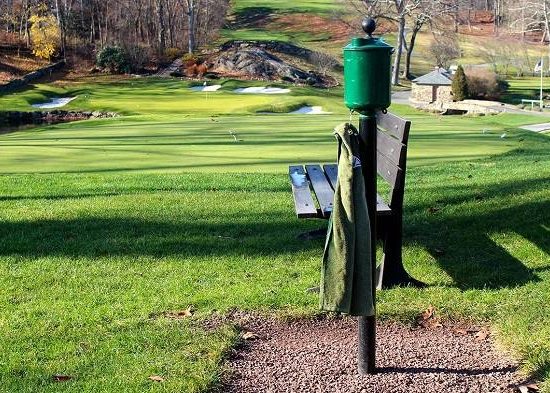 Golf-ball washers come in various complexities, such as simple soap, brush plungers, multiple rinsing cycles, scrubbing, and pressure washing. There are a lot of ways of how to wash the ball.
Outro
After going through the list, you should figure out how to clean golf balls correctly and pick the method that suits you most. Take note of these basic ways to clean the balls easily: Dish soap, white vinegar, house-safe ammonia, or bleach. And please make sure that you scrub and clean with care!
After you've reached the end of this guide, there is no excuse left to backswing on a dirty ball ever again! Let's start the cleaning now!
See More : The Best Way to Clean Recovered Golf Balls