Golf has gained popularity in the women's generation these days. But the matter is that many people are still completely ignorant of what to wear golfing women.
Attire seems different in many regions, and it might be overwhelming to choose the correct clothing on the golf courses. For this reason, we have written this article to clear up your concerns.
Do not hesitate to check it out!
Golf Dress Codes and Etiquette
Typically, golfers have a specific style for you to follow due to this game's traditional roots. While some places do not enforce a dress code, some still do.
Specifically, exclusive golf courses or private clubs are the most stringent, and other places such as some municipal or public golf clubs, practice facilities, and golf entertainment tend to be more lenient and laid-back.
The enforcement lets you enter the clubhouse as long as you wear appropriate clothing. Here is what you are not allowed if these golf courses enforce a dress code.
What Is Typically Not Allowed If Enforcing A Dress Code
First and foremost, stay away from some clothes that are quite casual, made of uncomfortable fabric like jeans, cotton, or have short length.
On top of that, be careful about the length of a dress or skirt. A few golf clubs will pay much attention to this thing.
Here are some specific examples:
Jeans or denim
Athletic leggings
Cargo shorts
Tee shirts, tank tops, crop tops, midriffs
Flip flops.
It will be best if you call the golf course you are planning to play at first to ask about the particular outfit.
The Deep Divide Between Men and Women's Golf Apparel Rules
The professional golf world lets golfers make their outfits modern and chic. Therefore, it has appealed to more and more millennials and junior players.
However, there is still a deep divide between men's and women's golf apparel rules.
Let us take an example. Rickie Fowler, a famous American golfer, wears high tops while joggers. Then, Nike started designing polos with no collars, and shorts are acceptable during the European Tour.
However, the LPGA made a stricter dress code rule afterward. On July 2, 2017, some new rules were laid by LPGA president Vicki Goetze-Ackerman, including no leggings, no plunging necklines, no chic racerback-style tops, and no joggers.
Why can Rickie Fowler wear joggers and high-top sneakers, and women cannot? Clearly, it's time for golf clubs to be more lenient towards women and make a new way for women's golf apparel and style.
What To Wear Golfing Women – Standard Golf Attire for Ladies
Tops
As we have mentioned above, ladies do wear a collared shirt according to golf clothing's tradition.
This rule is quite comfortable for women to be accustomed to as it comes in an array of colors and styles to choose from. It includes button-down, zip-top, V-neck, long and short sleeves, or other aesthetic prints.
If you still want to go with a non-collared shirt, ensure that it is not a tank top or t-shirt. And never expect to enter any golf course if you go with a sleeveless shirt with no collar.
The go-to option here is always a polo shirt. On top of that, you can consider some products from any company producing golf clothing to pick some modern and chic ones.
Bottoms
Deciding what to wear on your bottom half mostly depends on the weather. To be more specific, you will find it surprisingly effortless to wear trousers in the winter months.
For example, full or ankle-length slacks will surely be your best bet, as long as they are not leggings or athletic-type workout pants.
But when summer comes and you go out to play, remember to check the golf course's dress code regulations first. You might get confused about the short lengths due to the clubs' varying rules.
Some places want the shorts to go past your fingertips when your arms are down on your body. Meanwhile, some prefer them not to be above the knee.
For this reason, you had better opt for Bermuda-length golf shorts, golf dresses, and skorts (the combination of shorts and skirts) in the summertime. You will never worry about breaking the rules as such.
Sweaters And Jackets
Tend to play golf for a long period of a day? Then do not forget to dress in layers on the golf course and at the driving range.
The reason is that temperatures are likely to vary substantially during your golf time. As such, it is a must to come prepared with some lightweight sweaters and jackets. Rest assured that they will not restrict your swing in any way.
We always highly recommend bringing a light wind shirt in your golf bag. It does not add much weight yet still helps you avoid sudden weather change well.
On top of that, there are various options for you to consider, including a golf jacket, a golf jacket, a golf vest, a turtleneck sweater, or a waterproof rain jacket having a hood. A standard sweatshirt or denim jacket is not allowed in any case.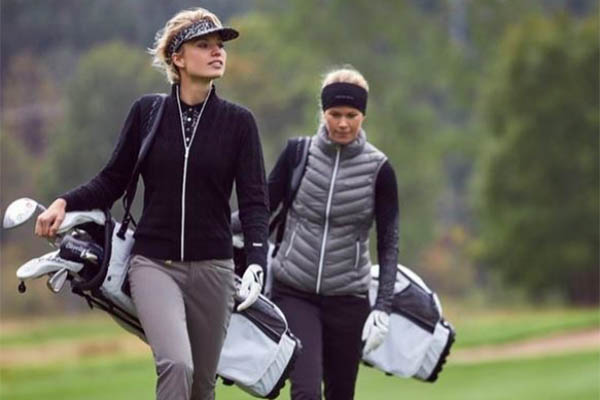 Head
Regarding the head, no specific requirement is listed. However, it will be harmful to your skin and eyes if you keep playing golf for four to five hours in the sun. Therefore, we do recommend you wear a hat while golfing.
There are many products for you to pick up based on your preference. For example, you can choose the standard baseball-style cap, sun visors, or even wide-brimmed and bucket hats for higher sun protection.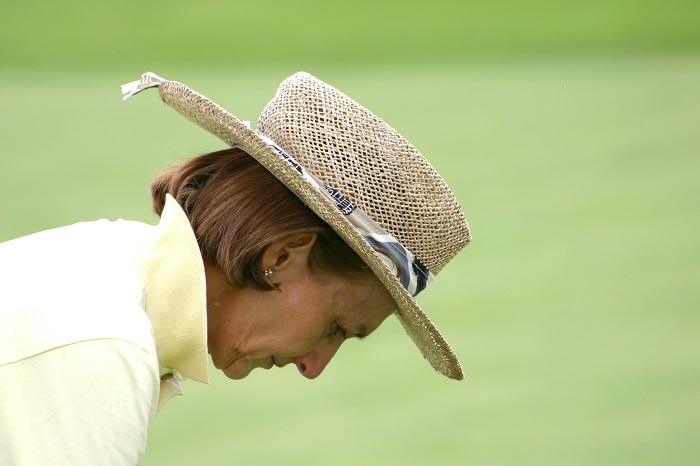 Footwear
In terms of socks, you can opt for some no-show or very low-cut items to get approval from your club. Besides, golfing socks should absorb moisture and bring comfort during the play.
In case you are interested in fashion, it is ideal to choose a pair that coordinates with your golf outfit.
Eyewear
As we have mentioned above, your eyes must struggle from being in the sun for too long. That's why you had better invest in a pair of sunglasses.
Of course, they have to be designed for golf. You can try them on and look down to see if they can stay on and not block the view of a golf ball.
There are some golf sunglasses on the market coming with customized lens technology to boost colors and contrast. They will help to spot the ball and changes in the terrain without any difficulty.
You can rest assured of its comfort when you sweat.
Shoes
Apart from tops and bottoms, golf shoes are what you should pay much attention to. Some items you should avoid consist of a sandal, heel of any kind, and flip flop. Other remaining styles are all acceptable.
But why is footwear worth investing in? Although the style of your shoes does not violate the dress code, it might contribute greatly to your performance.
Some private golf courses have a strict requirement that you must adhere to, but some do not. A pair of golf shoes with non-metal or soft spikes is a good idea.
A simple sneaker or tennis shoes will not provide you with as much stability when you swing and hit a shot as golf shoes. Moreover, they do not ensure your safety, like losing traction, on golf course terrain.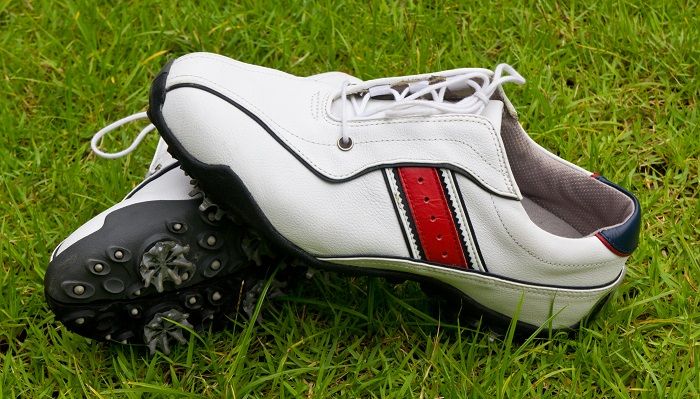 Glove
Wear one glove on the non-dominant hand
Golf gloves are also a should-have item when you are on the golf course because they give a better grip. Hence, lots of golfers wear them, although they are not required.
People often wear one glove on their non-dominant hand. But if you want to protect your hands from the bright sun, it is acceptable to wear two at times.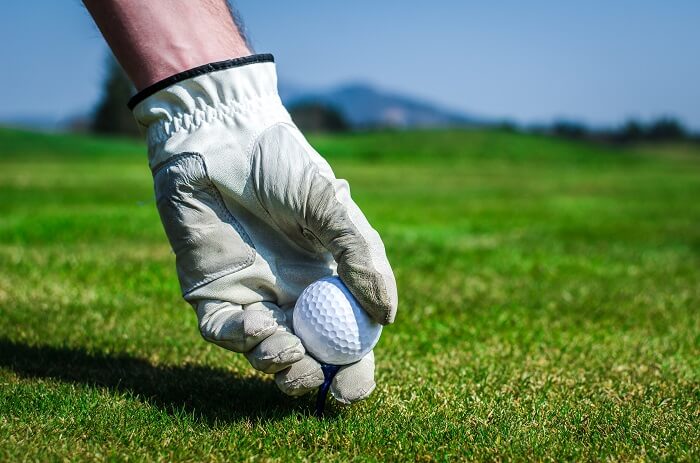 The Bottom Line
Once you know about what to wear golfing women, especially when you have consulted all the basic rules above, everything seems to be straightforward.
Our precious advice is to refer to the golf course's rules first and look for an appreciated yet fashionable outfit later. Hopefully, you can rock the golfing look, make your own golf style, and have a good time enjoying this stimulating game.