How to wash golf gloves in the right way has always been a difficult question for golf players. Some can't find a perfect way to deal with these easily damaged gloves and end up wasting a lot of money.
Stay calm, as we are here to help solve this problem. In the post below, we will show you how to clean golf gloves and every other information to take good care of your beloved pair of gloves.
Keep on reading to find what you have always desired.
How To Clean Golf Gloves – In The Right Way
Cleaning Synthetic Leather Gloves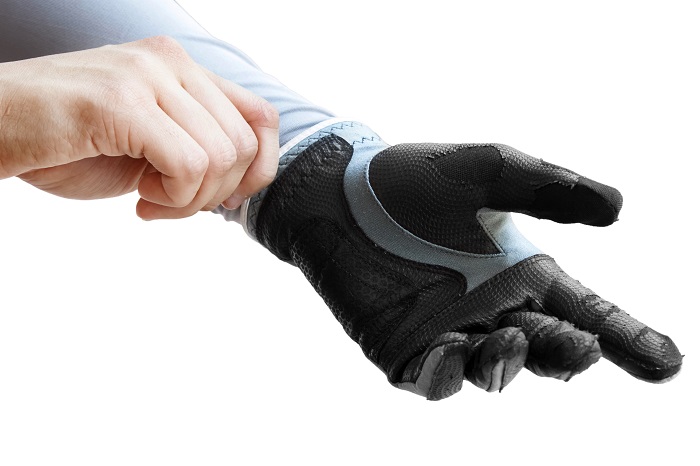 After experimenting, here is our method for how to clean a golf glove.
Step 1:
Before performing the cleaning procedure, please make sure to remove all dirt and debris from your glove. You can take them off with your hands or a soft brush, or wipe them off with a dry cloth.
Step 2:
Grab a bucket to finish this step, or using your sink is also acceptable. Fill it with either lukewarm or cold water. Put in 2-3 tablespoons of detergent (mild type or the one that specifies for delicates).
You also can replace it with liquid soap, in case you don't have that kind of detergent at home.
Additionally, if your gloves' leather is too worn out or too stiff, you may add some fabric softener into the mixture. Yet, one tablespoon is enough for full use. Since it is a strong chemical, it may ruin your gloves if using too much.
Step 3:
Soak your glove in the water for about 30 minutes.
Step 4:
After 30 minutes of soaking, put your hand in the water and gently scrub the outside of your glove. As for the inner side, squeeze the water through them so that the water can deeply remove all the impurities inside your glove.
You can use your hand or a soft bristle brush to clear away all the dirtiness. Only use a soft bristle brush, but not the brush with a firm plastic bristle since it may damage your expensive gloves.
Step 5:
Now, it's time to air dry your glove. It may take you about 12 to 24 hours to make your gloves completely dry.
Note:
Squeeze out of the excess water and hang your gloves to dry.
Never throw them in a dryer or let them expose directly to the sun, as that will make the leather of your gloves shrink and crack due to the extreme heat.
Never wear slightly damp golf gloves as it will damage the color or even your gloves' quality later. Moreover, these wet gloves may lure more odor and dirt. Therefore, please ensure that both gloves are dry before use.
If you feel that your gloves are dried out after washing, try to use a leather conditioner (in any form is fine) to soften them. It will ensure your gloves' leather is supple again.
Cleaning Genuine Leather Gloves
As the genuine leather is waterproof, below are some recommendations for washing golf gloves.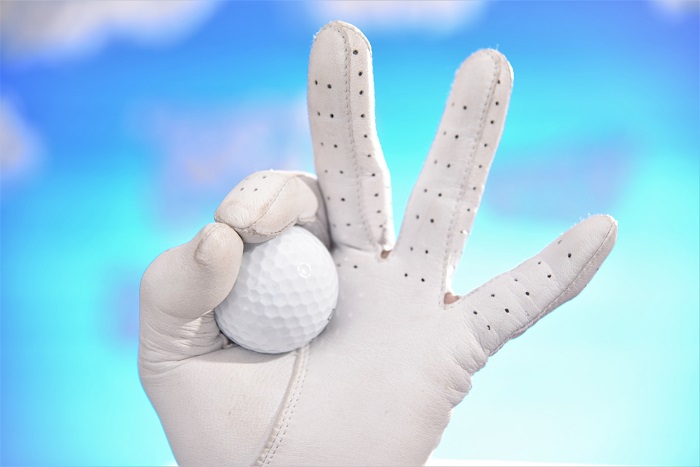 Remember to clean the surface of your gloves to remove all the dirt after each round. Through every usual golf round, there is always some grass or dirt soiling your gloves. Therefore, cleaning golf gloves after each round will keep them look clean and even extend their lives for more than one year. All you have to do is use a damp cloth or tissue to wipe off the dirt and then dry them another dry piece of cloth.
Before cleaning, it would be best to check your glove for any dirt accumulation on the palm or the fingers of your glove. This would help you know when to fix the grip and change your way of holding the club during a swing to avoid making any more abrasions on your golf gloves.
Still, if you are dealing with more severe dirt, here are some other steps to clear them away.
Step 1:
Dampen a soft microfiber towel or a clean cloth. Don't forget to wring out all the excess water as you only need the towel to be damp, not dripping.
Step 2:
Add some mild detergent on the towel and rub it to create some foam with the cloth. Make sure to use the mildest soap in your house as its light chemical will not affect your gloves.
Step 3:
With your foamy towel, rub it on the leather gloves gently. Focus more on the dirty areas of your gloves
Step 4:
Dampen another towel to remove the soap and the dirt from your gloves. Gently wiping them off with rubbing motion repetition. Please ensure that all of the soap and dirt are completely off your gloves.
Step 5:
Air dry both gloves.
You will feel the leather is a bit hardened when putting your gloves on after it dried. Yet, don't worry, as the moisture and warmth that your hands release will loosen them up.
Know When To Replace Your Gold Gloves
Still, despite careful caring and upholding, there will be a time that you know you eventually have to replace your gloves. No matter how mindful you are at washing or air drying the gloves, wear and tear is inevitable. Even when you buy the best golf gloves in the market, they will still last for a certain amount of time after being used and played on the field.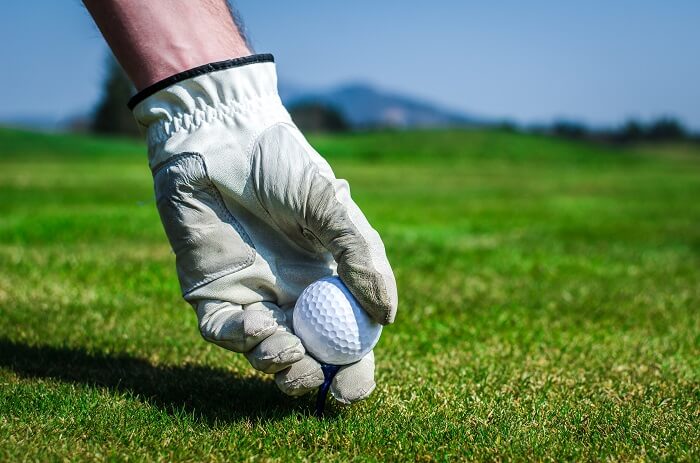 Therefore, keep in mind some indications to know when to buy yourself new gloves.
The first indication for replacement is if your gloves are very filthy. Regardless of what we have said, you could always clean your golf gloves, and if the dirt is too much or doesn't come off, it is time for a renewal. Normally, your gloves will experience some discolorations throughout the time due to the sweat, the amount of time playing, and nature. Yet, if it looks like a crazy rag with several discolorations, this is an indicator that you should replace your gloves.
The second one is when they are crispy. It may sound weird to some people, but we all know its meaning as a golf player. If your gloves are penetrated with lots of hand sweat and get hardened, it is an indicator for a replacement. Rather than forcing your hands into those gloves, just let them go and award yourself with a new one.
Surprisingly, the third indication is when your gloves don't fit your hands anymore. After a time of playing, the wear and the sweat may cause your gloves to shrinked. If those gloves are too small when trying on, get yourself a new one instead. It will be very uncomfortable for your hands to have that too-short pair of gloves on overtime. And, it definitely harms your ways of performing on the field.
The fourth is the last and most visible indication. If there is visible detrition like holes or tears, it is clear that you should buy new gloves. There is nothing much you can do to save these broken gloves, so it would be best to replace them with a new pair.
Tips To Take Care Of Your Golf Gloves
On The Course
Never use your gloves to dust off the dirt. The glove is not designed to do that duty. Instead, bring a towel with you to help wipe off any dirt on your clothes or clubs.
Never use your golf gloves to wipe your sweat. As mentioned above, when you let your gloves expose to sweat, it may result in some unwanted conditions. So, to prevent this situation from happening, better not let it touch any of your sweat.
When you want to take off your golf gloves to putt, never ever throw them on the ground. When being thrown on the ground, your gloves will take up sand, dirt, as well as wet grass, which may be the cause of your gloves' quick deterioration.
When driving from hole to hole, it would be best to take off your gloves. The steering wheel is not very clean after all, and if you keep your gloves on while driving, the wheel may dirty them.
Off The Course
After one round of playing, there are some requirements that you should do to maintain your gloves' longevity before putting them away.
Please ensure that the golf gloves are dry before being stored in the golf bag. If your gloves are not dry, this may lead to some irritations like crusty and hard gloves. And it will be more difficult to work within the next play.
The last requirement is, please be sure that you don't store your gloves in a ball. If you crumple up your golf gloves into a ball-shaped and throw them in your bag, you may face some difficulties getting them on and in shape for next time playing.
Conclusion
Can you wash golf gloves? How to clean golf gloves? We have already shown you in the article above. We hope that you can choose the best way to wash your gloves and do it at ease. Also, you will know more tips to take care of your gloves and know when to replace them with the information we provided.
Good luck with your work. Thank you for reading.